United Nations Foundation
Background
#GivingTuesday – established by 92Y and maintained by the United Nations Foundation – is a global social media initiative committed to helping people shift their focus from consumption holidays back to giving (it occurs on the Tuesday following Thanksgiving).
While the UN Foundation is technically the event's organizational hub, it's up to charity organizations, non-profits, corporations, community groups and governments to carry out the day. Independent groups keep #GivingTuesday alive by executing a specific initiative and promoting their service with the hashtag #GivingTuesday.
Since #GivingTuesday's launch in 2012, well-recognized celebrities such as Ellen DeGeneres, Heidi Klum, Kevin Bacon, Katie Couric, Bill Gates, and Kourtney Kardashian have joined the cause. Additionally, over 10,000 organizations participate in this annual holiday.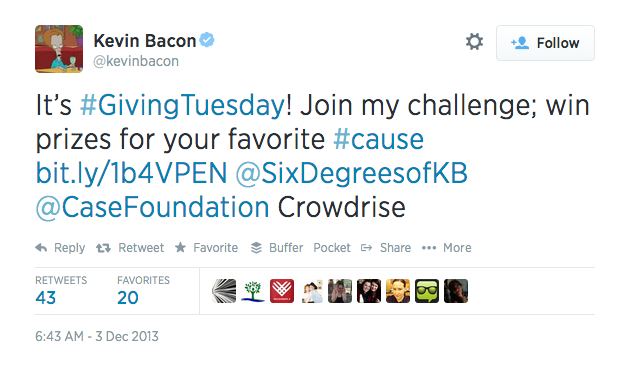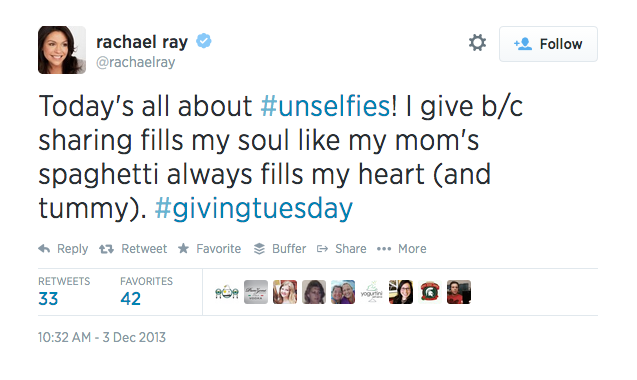 Client Requests
1. Determine how to make #GivingTuesday a self-sustaining holiday
The UN Foundation doesn't see a need to directly manage #GivingTuesday long-term. They'd like to see it transitioned into a self-sustaining holiday. After all, #GivingTuesday's mainly carried out by a number of different independent parties.
2. Examine the option of a year-round promotional campaign
In 2012 and 2013, #GivingTuesday was promoted with a 60-day campaign. We were asked to assess whether or not implementing a year-round awareness campaign would substantially impact the volume of participation on #GivingTuesday.
Solution
1. Making #GivingTuesday a self-sustaining holiday
At the time of this project, #GivingTuesday was being promoted by more than 2,500 partners – non-profit organizations and for-profit corporations. However, despite the long list of promoters, our team struggled to see how these groups could transform #GivingTuesday into a self-perpetuating campaign.
With time, I identified a new audience that could help us reach our goal – participants.
Participants: Individuals, without ties to any of the official 2,500 partners, promoting and participating in #GivingTuesday.
While participants had played a significant role in previous #GivingTuesdays, they'd never actually been identified or recognized in the strategic planning. It was time to recognize them.
I pitched the new audience, and a Big Idea for the campaign (centered on the 'participants'), to my team members, and everyone voted in favor of it.
The Big Idea: Brand the Tuesday following Cyber Monday as a day in which people around the globe step away from mass consumption and focus on giving. Just as Black Friday is recognized as a day of extreme bargain shopping, we aim to have #GivingTuesday recognized as a day centered on giving. When control of the conversation is moved from organizations participating in #GivingTuesday to independent participants, a self-sustaining campaign will form.
Participants have the ability to promote #GivingTuesday in a way that partners simply can't. Participants' promotions come across as sincerer and have a longer lasting impact with others. Their involvement doesn't even need to include monetary donations; their importance roots in simply promoting the day. Participants look forward to, and expect, #GivingTuesday to occur each year. They will make sure it occurs each year.
2. Create a year-round promotional campaign for #GivingTuesday
It's amazing what a talented team can create when they simply have a white board. One day our team was feeling discouraged. We'd laid a clear strategic foundation for our proposal, but our action plan felt random. With a white board directly behind us, I grabbed a dry-erase marker and we began meticulously listing out all of our tactics.
For the next twelve hours, we poured over that board and collectively solved the issue. We realized that when we shifted the promotional campaign from 60 days to year-round, we'd mistakenly given equal weight to every day of the year. We needed our tactics to progressively build up to the day of the event.
So, we broke the year into three sections. Our three-stage strategy helped our tactics be less random and more purposeful. Through brainstorming and problem solving together, we were able to not only alleviate a temporary frustration, but also create a long-term solution for our client.
Pitch
We pitched our proposal against three other teams. Our proposal was the only one to solve the issue of transitioning #GivingTuesday into a self-sustaining event. It was also the only pitch to propose outreach to a new audience and to propose a multi-tiered calendaring strategy.
Because the calendar, budget and communication confirmation table were printed in
an accordion foldout style, they have been omitted from this format.
Presentation
We presented in a two-screen room; so we placed text slides on one screen and accompanying image slides on the other.
Implementation
Our proposal has been the only pitch implemented to-date. After our presentation we were praised for how clear and easy to implement our tactics were.
It Matters. As a child, the Thanksgiving turkey spread was always followed by the newspaper ads spread. By that point, I'd finalized my wish list and was ready to notify my parents what items they'd be sacrificing their precious sleep for. Clearly, things have changed since the days when I cared for a 1.5" pixilated baby and Furby was found lurking in our car trunk, storage closet and anywhere else my mother, unsuccessfully, tried to hide that indestructible Energizer Bunny/Chatty Cathy hybrid. Now Black Friday has seeped so deeply into Thanksgiving that the label Brown Thursday is being used, and of course when you're lying on the couch icing your knee from a grandma tackling you for the 5% off toaster you can continue shopping via your phone on Cyber Monday. With so many mass consumption days now jammed together, I loved working on a project to increase awareness of a day right after Thanksgiving focused on something different – giving.